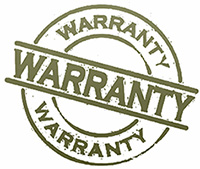 WHAT IS COVERED BY OUR WARRANTY?
BuyCasters.com warranties it's products against defects in materials and workmanship when used normally for a period of 30 days from the date of original retail purchase. BuyCasters.com's customer service department must be notified of any issue with the product within 30 days, via email or phone.
WHAT IS NOT COVERED BY THIS WARRANTY?
BuyCasters.com does not warranty against abuse, misuse, overloading, lack of lubrication and maintenance, misapplication, impacts or shock loading, modifications, extreme heat or cold, accidents, use on damaged floors (cracks, holes, uneven transitions) and normal wear.
All product must be used within the Technical Specification Guidelines of each product as listed on the product page. Products are designed to be used for manual operation unless specified, if operated mechanically, (ie: Tow Line), they must not exceed 3mph on smooth flooring. All of our products are designed for the transportation of goods, never use for the transportation of people.
The Technical Specifications (ie: load capacities, temperature range and shock loading) are very important to the safety of you and all using the product. To prevent accidents and injury please follow the guidelines listed.

Our liability is limited to and shall not exceed the purchase price of the product.

Help Pages
Return Policy